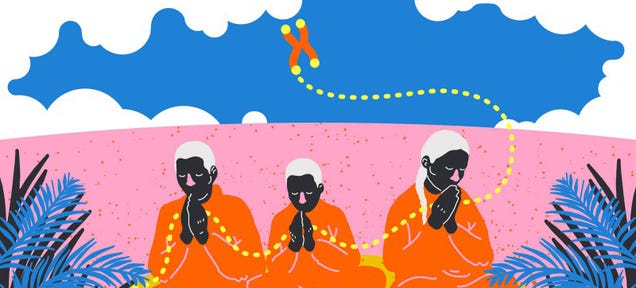 It's seven in the morning on the beach in Santa Monica, California. The low sun glints off the waves and the clouds are still golden from the dawn. The view stretches out over thousands of miles of Pacific Ocean. In the distance, white villas of wealthy Los Angeles residents dot the Hollywood hills. Here by the shore, curlews and sandpipers cluster on the damp sand. A few metres back from the water's edge, a handful of people sit cross-legged: members of a local Buddhist centre about to begin an hour-long silent meditation.
Such spiritual practices may seem a world away from biomedical research, with its focus on molecular processes and repeatable results. Yet just up the coast, at the University of California, San Francisco (UCSF), a team led by a Nobel Prize-winning biochemist is charging into territory where few mainstream scientists would dare to tread. Whereas Western biomedicine has traditionally shunned the study of personal experiences and emotions in relation to physical health, these scientists are placing state of mind at the centre of their work. They are engaged in serious studies hinting that meditation might – as Eastern traditions have long claimed – slow ageing and lengthen life.
Elizabeth Blackburn has always been fascinated by how life works. Born in 1948, she grew up by the sea in a remote town in Tasmania, Australia, collecting ants from her garden and jellyfish from the beach. When she began her scientific career, she moved on to dissecting living systems molecule by molecule. She was drawn to biochemistry, she says, because it offered a thorough and precise understanding "in the form of deep knowledge of the smallest possible subunit of a process".
For the rest of the story: http://gizmodo.com/can-meditation-really-slow-ageing-1598973942